Low-entry cab trucks tailored for urban operations
Just as your business is unique, so too is the city you operate in. Urban driving involves many starts and stops, frequent climbing in and out of the cab, and the constant need to keep track of other vehicles and pedestrians around the truck while driving.
The Scania L-series is built with safety as a fundamental priority and is designed and tailored for hectic operations in tight city conditions. The L-series cab combines a spacious interior with compact exterior measures. Excellent cross-cab access, comfortable kneeling function, and improved visibility make getting in and out of the vehicle quick and easy. 
Reassuringly safe. Comfortably built.
Created to maneuver and excel in a fast-paced environment, easy access makes entering and exiting simple, while moving around the interior is also straightforward. Efficiency, safety and comfort combined in one perfect package.
Purpose designed for urban environments
The L-series cab was designed to excel in tight urban environments and is optimised to create the best possible working environment and direct vision. 
All without compromising on crash certification and the safety you expect from larger cabs. 
Scania L-series has excellent cross-cab access. The cab sits low and far forward on the chassis and the engine tunnel is out of the way. This makes it easy for the driver to climb in and out on either side of the vehicle.
The L-series gives an ergonomic crew environment and increased efficiency and productivity.
Ergonomically designed 790 mm wide boarding steps combined with a very generous door opening angle ensure you get in and out in comfort. 

In addition the cab's kneeling function (standard in one-step versions and available as an option for two-step versions) lowers suspension by 100mm when the parking brake is applied. This reduces strain by making it possible to enter in a smooth motion. 
Scania's City Safe Window is a low-level door window that gives the driver a better view of nearby pedestrians and cyclists, as well as better awareness in busy urban situations.
The window makes driving in high traffic environments easier and helps prevent accidents by maximising the field of vision. 
Scania's City Door makes the L-series cab even more efficient in operations where staff frequently exit and enter during their workday, giving them a full view of what is immediately outside the cab.
The inward-swinging nature of the door means it is possible to safely exit the cab at passenger side on busy roads, or to exit in tighter spaces such as when parked close to a wall or fence. 
Up to three passenger seats
We know that some operations require a small crew onboard to maximise efficiency in hectic urban environments. 
The L-series can be fitted with up to three passenger seats, placing two extra seats in the centre of the cab to create the capacity necessary for four people in the cab, while still allowing everyone to travel in comfort and work effectively. 
The L-series is available in three distinct cab options, each with their own unique benefits to match the needs of different types of operations. It's also fully integrated into Scania's modular system, allowing components and parts to be easily interchanged according to your specific application. 
L-day cab low
The lowest cab in the L-series range is the ideal option when low total height is the priority, for example in order to enter and leave a garage, or when operating at airports. 
Cab Height
2,700 mm (without air deflectors)
Bed

No
Powertrain

280-360 hp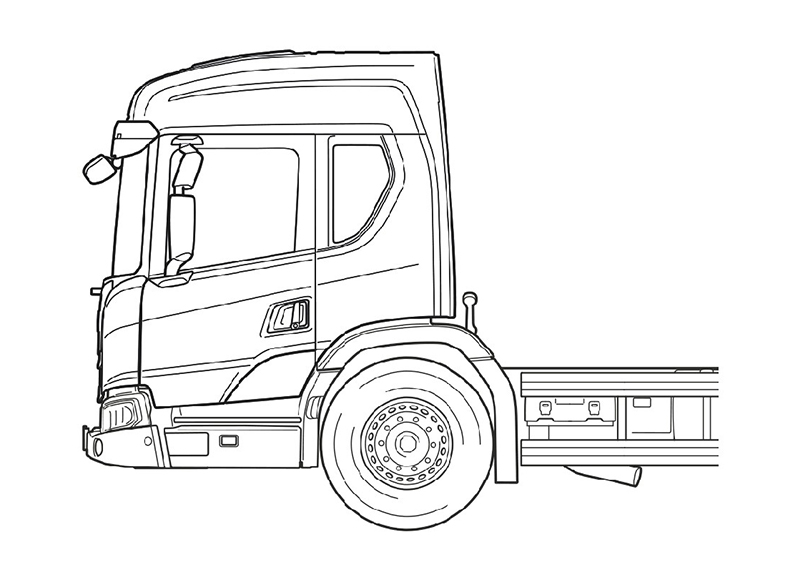 L-day cab normal
The middle-sized cab in the L-series range still delivers low total cab height but also permits two additional seats to be mounted on the engine tunnel, enabling three passengers to be carried.
Cab Height
3,040 mm (without air deflectors)
Bed
No
Powertrain
280-360 hp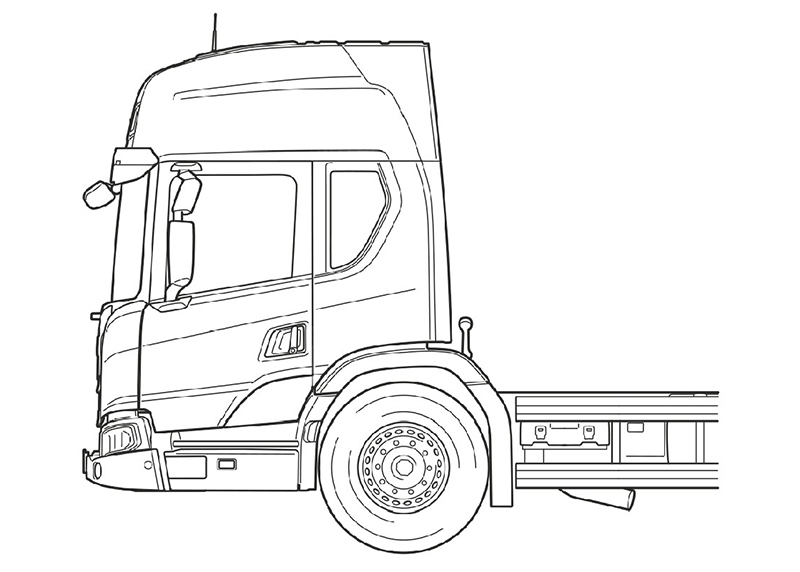 L-day cab high
A more spacious cab with extra room for storage, and additional headroom for the crew, making it even easier to move around inside the cab.
Cab Height
3,300 mm (without air deflectors)
Bed
No
Powertrain
280-360 hp
Improving your day-to-day
WIKAB, a Swedish company working with road safety, improved their work environment by choosing a Scania low-entry cab for their TMA-truck.  
The L-series has a lower driving position, placing the driver at the same height as other traffic surrounding the vehicle.
A lower dashboard and windowsill combined with compact mirror housings and narrow A-pillars improve driver visibility by 12 percent, reducing the risk of accidents and increasing your driver's field of view. 
Our cabs and cab suspension have been designed to reduce noise and vibrations to maximise the comfort.
The driver seat and steering wheel can be adjusted to find your perfect driving position. The L-series offers also outstanding crash performance for the safety of the drivers.
Maja Stomby, a field test driver, evaluates Scania's L-series, low-entry cabs for urban environments. "It's very much like driving a nice, premium passenger car," she says.
Please contact us if you have any questions about our products, services or other activities within the Scania organisation.
With a wealth of choices and an array of modular configurations, you can tailor your truck to fit your trucking life. Make it a Scania.